那覇大綱挽
Naha Great Tug-of-War Festival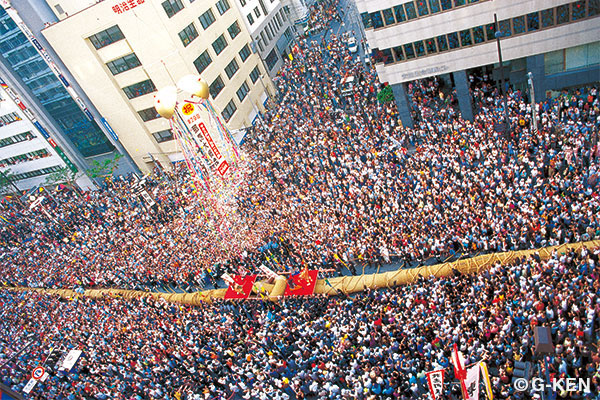 Tugs-of-war were held throughout Okinawa as a means of thanksgiving and to pray for an abundant harvest and rain. With a 560-year history, the Naha Great Tug-of-War is a major celebration in the prefectural capital as well as one of the most highly anticipated events on the island. The tug-of-war takes place every October, and on the day of the event all Naha is excited, with a festive atmosphere pervading the city from morning till evening.
The giant 172-meter-long, 32-ton rope used during the Naha Great Tug-of-War was in 1995 registered in the Guinness World Records as the largest rope made of rice straw at the time and was again cited in 1996. The event is participated in by about 15,000 competitors and observed by about 270,000 spectators each year.
After the contest, the festival site moves to Onoyama Park near Naha Airport. With a stein of local favorite Orion Beer in hand, people stroll around the park and enjoy food and live entertainment. Regardless of age or nationality, this is an event everybody can participate in and feel part of the whole. The tug-of-war embodies the soul of Okinawa.
Date: Saturday-Monday, Oct. 6-8, 2018
Time: Procession of banner bearers, 11:00-14:00; tug-of-war, 14:30-16:00
Place: Route 39 to Kokusai Street (procession of banner bearers) and the Kumoji intersection on Route 58 (tug-of-war)
Admission: Free
Parking: Not available
For more information: Naha Great Tug-of-War Preservation Society: Tel 098-866-4858 *Inquiries in Japanese only