Summertime Yomitan Yoakari 2018
Ryukyu Night Festival
Every year during the brief winter season on Okinawa, the Yomitan Yoakari Project's Ryukyu Lantern Festival takes place, attracting locals and visitors to enjoy the romantic and peaceful lights and colors in the crisp evening air. This year, we're seeing a new beginning: the Ryukyu Summer Festival, with a layout and colors different from the winter event. The Summertime Yomitan Yoakari's Ryukyu Night Festival is a new summertime event introduced this year, where visitors can enjoy the exotic atmosphere of summer in our vast park area, with numerous lanterns lighting the streets of the recreated village from the past ages of the Ryukyu Dynasty.
Families, couples, friends, and all visitors can enjoy a lovely summer evening and make great memories, whether enjoying Ryukyuan cuisine at Janatei, a restaurant housed in an old-fashioned Ryukyuan home, or strolling around the park to take in the lights and colors of Japan and Ryukyu. There will be a Ferris wheel set up for the duration of the event, and nightly entertainment such as Eisa drum dancing and so much more.

One of the best things about the Summertime Yoakari event is that you can rent and be fitted into a summer kimono called Yukata. Yukata rentals are limited to 100 sets a day, and you can stroll around the grounds in the traditional summertime garb of Japan for a truly authentic experience. Of course, the costumes are great for awesome photos to share with friends and family on Instagram and other SNS. The rental rates are reasonable, which is another plus, at only 3,500 yen which includes the Yukata, Geta footwear, inner kimono and fitting. The Yukata are stylish and of good quality, and after you're fitted into your Yukata, take a leisurely walk around the park along the stone-paved paths and take in the elegance of the atmosphere of the past. You can stop along the way to take pictures as there are many places in the park for great photos. There are Yukata for men and children available, and there is a wide selection of Yukata sizes from small to 5XL. For an additional 3,000 yen, pamper yourself and get your hair and makeup done, too (by reservation via Facebook). What's more, you can purchase a Yukata of your choice (starting from 7,000 yen)! Take the opportunity to enjoy a fantastic evening, dress up in traditional Japanese Yukata, and make great memories of a wonderful night on Okinawa.
The Summertime Yomitan Yoakari 2018 delivers a wonderful Japanese summertime event starting on Friday, August 10. The special event will be held for 45 nights until September 23, so don't miss it!

Hair Set 1,500 yen
For makeup: 1,500 yen. Make advanced reservations via Facebook.
A deposit of 3,000 yen is required at the time of Yukata fitting and will be refunded when you return the Yukata. After your fitting, you can have your pictures taken for free in the studio by the fitting area. The photo data will be saved on a USB and presented to you together with your deposit refund. Don't miss this great deal!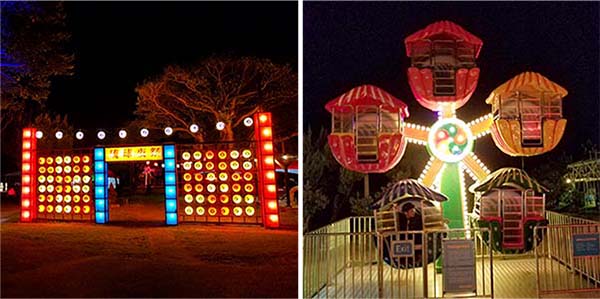 The whole park has a lot to offer, with food stalls, illuminations, and a mini Ferris wheel set up especially for the event.
Date: Friday - Sunday, Aug. 10 - Sept. 23, 2018 (45 days)
Time: 18:00 to 22:00 (You can enter the facilities after 9:00 AM and stay until closing)
Place: Murasaki Mura
Admission: 600 yen for adult, 500 yen for junior or high school student, 400 yen for elementary school student, free for age 5 and under.
*Yukata Set Rental (Yukata and Geta): 3,500 Yen (including tax) includes fitting, no reservations required
For more information, visit Facebook, Instgram
Facebook@ryukyulantern
instagram@lantan_ryukyu