October Events in the Ocean Expo Park
The Ocean Expo Park, which has been partially closed and on shortened hours to prevent the spread of the new coronavirus infection, has returned to regular operation hours, and events taking preventive measures are planned. In October, the Halloween mood is taking hold, and a variety of events both adults and children enjoy are taking place.
Halloween Maze
A Halloween-themed cardboard maze for children and adults!
Location: Oceanic Culture Museum
Date: Sat. and Sun. from Oct. 3 (Sat.) to Nov. 1 (Sun.)
Hours: 10:00-16:00 (Last entry 15:30)
Cost: Adults: 190 yen; Junior H.S. students and younger free)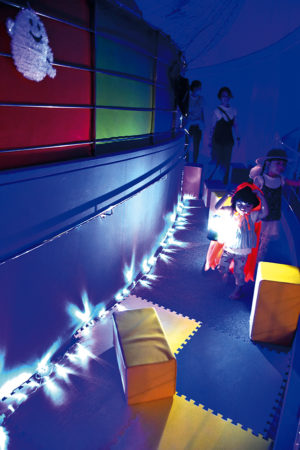 Ocean Expo Park Cosplay Photo Session
Cosplay photo session in Ocean Expo Park!
Location: Ocean Expo Park *Excl. some areas (aquarium, etc.)
Date: Saturday, Oct. 24 and Sunday Oct. 25
Hours: 10:00-16:00 (Last entry 15:30)
Cost: 200 yen, cloakroom 300 yen
Capacity: 100 people/day
*Please register at the Oceanic Culture Museum first.
Eco Bag & Mask Making Experience
Draw your picture and make your own bag or mask!
Location: Oceanic Culture Museum
Date: Sat. and Sun. from Oct. 10 (Sat.) to Oct. 25 (Sun.)
Hours: ① 10:00, ② 11:00, ③ 13:00, ④ 14:00
*First-come-first-served
Cost: Mask 200 yen, Eco Bag 400 yen *Separate admission fee
Capacity: 10 people/session
Kite Flying
Nationwide kite-flying to wish for the end of the new coronavirus.
Date: Saturday, Oct. 17
Time: From 14: 00
Cost: Free
Capacity: 20 people