首里城公園
Shurijo Castle Park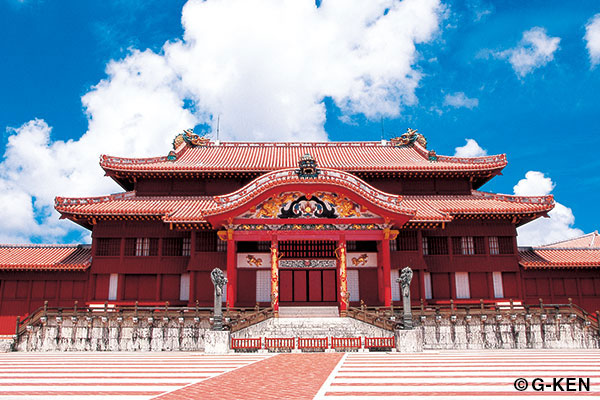 Spread out over a five-hectare area measuring 400 meters from east to west and 200 meters from north to south, Shurijo Castle, a symbol of Okinawan history and culture, is situated on a hill in Shuri. After walking through the exquisite castle gate, the Seiden, the biggest architectural work in the Ryukyu Kingdom, suddenly appears. Shurijo Castle was inscribed as part of the World Heritage by UNESCO in 2000 for its cultural and historic value, a unique blend of Japanese and Chinese architectural styles and sophisticated masonry techniques. Although the exact date of the first construction of Shurijo Castle is unknown, by 1427 the castle appeared as it does today. It served as the royal residence of the king and his family as well as the headquarters of the Shuri government, which ruled for nearly 500 years. In addition, a variety of festivals and royal rites were held at the castle. The area surrounding the castle developed as a castle town in which many government officials and master craftsmen took up residence.
Destroyed during World War II, Shurijo Castle was rebuilt in 1992, and the castle and nearby historic structures, including the religious prayer site known as the Stone Gate of Sonohyan Utaki, became a historical park, divided into free and paid areas. The environment of Shuri nurtured artists and artisans in and around the castle, making the place a center of culture and the arts. Gorgeous Ryukyuan clothing and exquisite palace cuisine both have their origins in Shuri.
Numerous cultural assets, including many smaller gates located between the exterior and interior castle walls, line the way to the Seiden after passing through Shureimon Gate and the Stone Gate of Sonohyan Utaki, one of UNESCO's World Heritage sites in Okinawa. Highly recommended among a number of seasonal events held at the castle park is the Shurijo Castle Festival, where visitors can immerse themselves in the history and culture of the Ryukyus while enjoying a variety of traditional performing arts.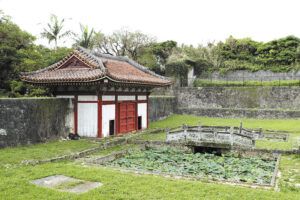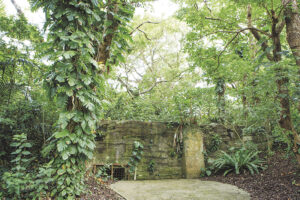 32nd Army Underground Headquarters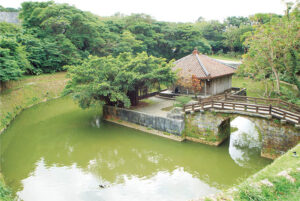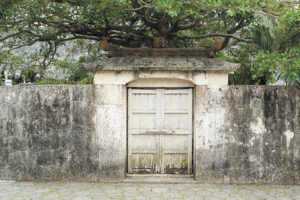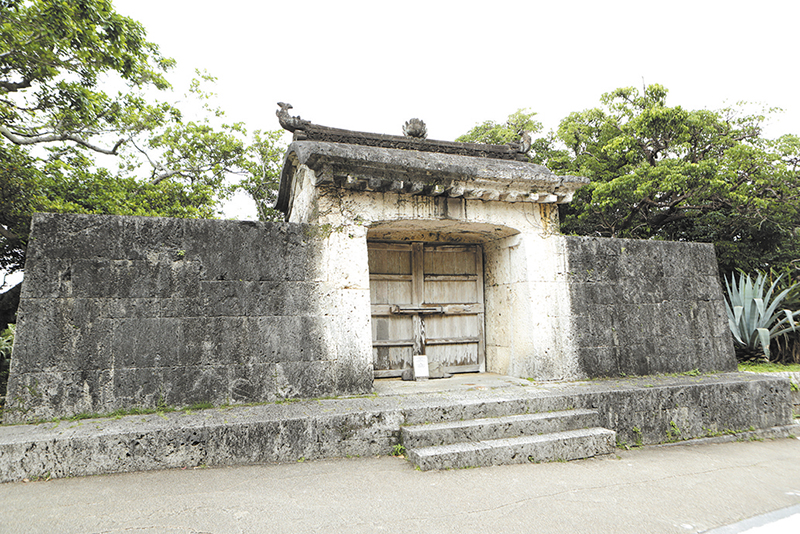 Sonohyan Utaki Ishimon (Stone Gate of Sonohyan Utaki)
1-2 Kinjo-cho, Shuri, Naha City
Tel: 098-886-2020
Hours for the paid area: April-June 8:30-19:00; July-September 8:30-20:00; October-November 8:30-19:00; December-March 8:30-18:00
Hours for the free area: April-June 8:00-19:30; July-September 8:00-20:30; October-November 8:00-19:30; December-March 8:00-18:30
Closed: 1st Wed and Thu of July
Admission: 820 yen for adults, 620 yen for ages 16-18, 310 yen for ages 6-15, free for children under 6.
Annual passport: 1,620 yen for adults, 1,240 yen for ages 16-18, 620 yen for ages 6-15.
Shurijo Castle prospered as the Ryukyu Kingdom's center of politics, diplomacy and culture and is now inscribed on UNESCO's World Heritage List. Shurijo Castle was rebuilt in 1992, and the castle and nearby historic assets, including a number of gates leading to the Shurijo Seiden as well as the castle walls, have become a historical park.