レクー沖縄北谷スパ&リゾート プレミア
LeQu Okinawa Chatan Spa & Resort Premier
Quality time is waiting for guests at LeQu Chatan Okinawa Spa & Resort
Now Military Discount Rate available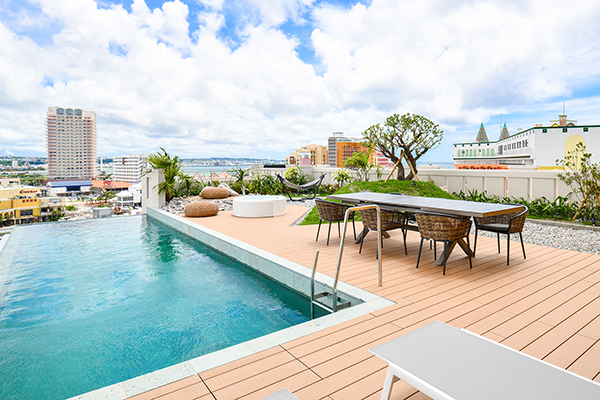 The  LeQu Okinawa Chatan Spa & Resort Premier, next to LeQu Okinawa Chatan Spa & Resort, in the Depot Island area in Mihama, attracts guests looking for upscale accommodations at a fashionable location. Specifically, guests who stay longer prefer the Premier and, recently, those who want more privacy during the ongoing COVID pandemic.
One of the premier building's main attractions is its rooftop infinity pool and a hot spring jacuzzi with an adjacent poolside bar and café. The area is exclusively reserved for the hotel guests only, who enjoy the impressive ocean view while relaxing in the lap of luxury. The hotel is right next to Depot Island,  Okinawa's largest fun complex, with over 200 restaurants, bars, shops, and boutiques, all within a couple of minute's walk. A self-driving cart runs a route around the area, which anyone can ride on for free.
The specialty of the Premier Building is a fully equipped kitchenette, washing machine, and dryer in every room. In addition, each has a natural spring bath with water flowing from the underground hot spring that also feeds the public bath in the hotel. Some of the rooms also have a loft and a private pool.
Both hotels' amenities include a lounge, cafe & bar, relaxation salon, breakfast restaurant, room service, laundry, internet, vending machine, ice machine, smoking room, private parking lot, and free WiFi/wired LAN throughout the building.
A stylish modern industrial style "ZHYVAGO COFFEE ROASTERY," "Frankie's Tavern" serving grilled foods and local beer, "Shuhari Bike Works" bicycle rental shop, and a locally popular street skater brand shop and café "Chocolate Jesus" are all on the first floor of the building.
Next door to LeQu Okinawa Chatan Spa & Resort is the Depot Central building, which has various shops on its 1st floor and several restaurants from the 2nd floor up. Irish Pub Howdy is on the fifth floor, and the 8th floor houses a nightclub. The 24-hour convenience store Lawson and other shops occupy the first floor of the other side of the building.
Children under 18 of age stay free with their parents, plus long-stay, military, and silver discounts apply. An extra mention must be made of the hotel breakfast buffet included in the room price and features a vast selection of dishes from Okinawan to Japanese, Chinese and Western.
The LeQu Okinawa Chatan Spa & Resort and its nearby sister hotel, the Vessel Hotel Campana Okinawa, introduce special discount rates for the U.S. military from July 1, 2021. The telephone number for inquiries about the deals is 098-936-1188 for both hotels.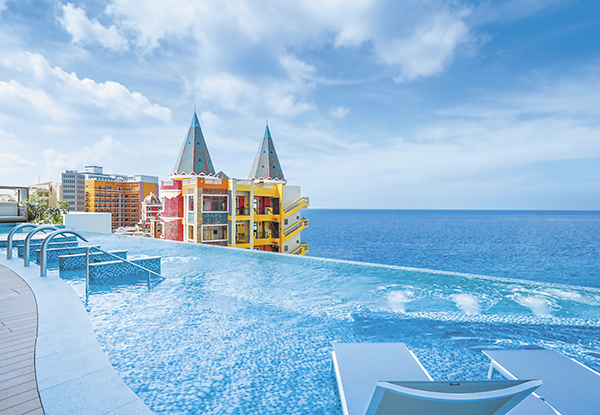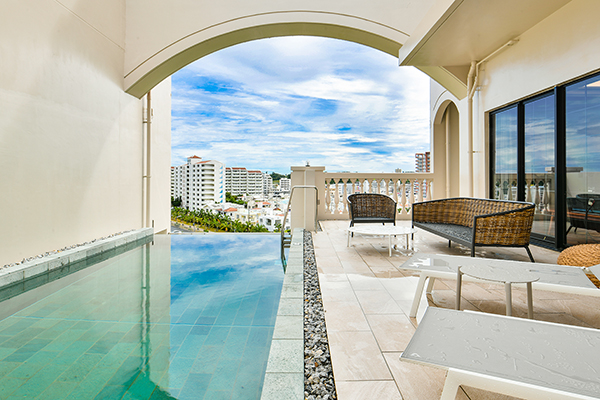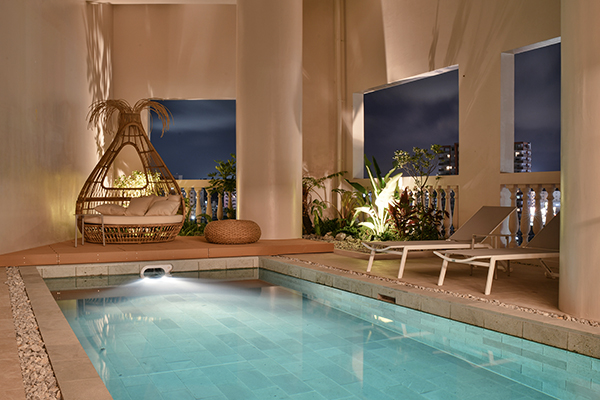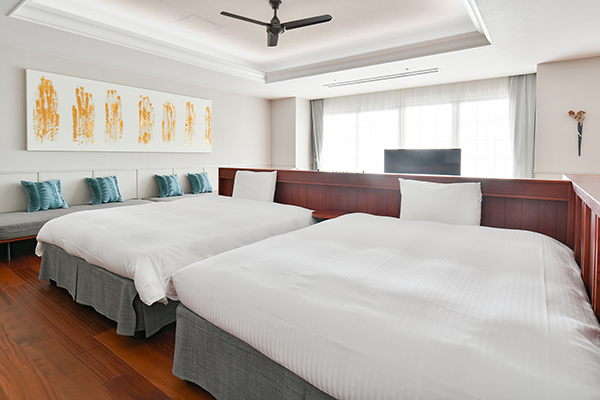 LeQu Premier, Gold SuiteRoom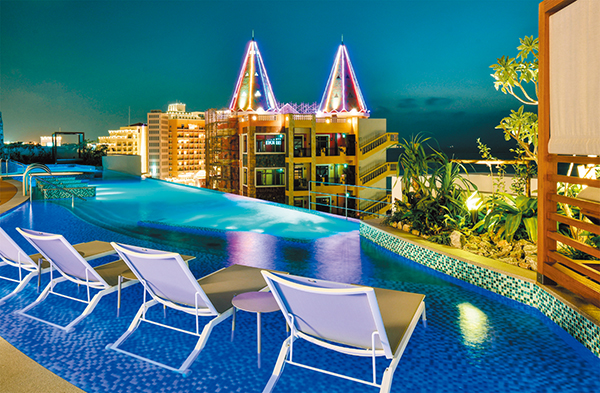 Nothing is better than the sunset over the ocean and the night view of the American
Village seen from the top-floor guests-only infinity pool.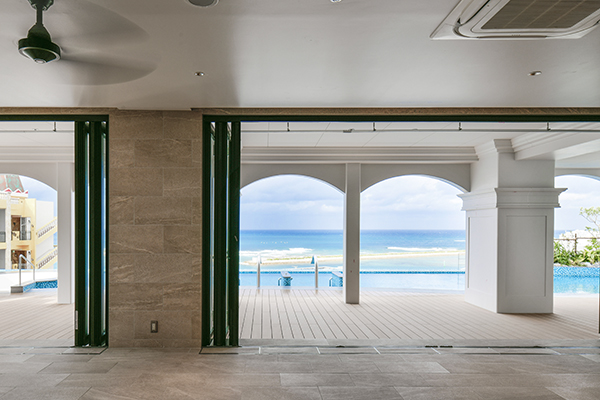 View from the Café & Bar at the spa on Lequ Okinawa Spa & Resort.