Kin Town / Ginoza Village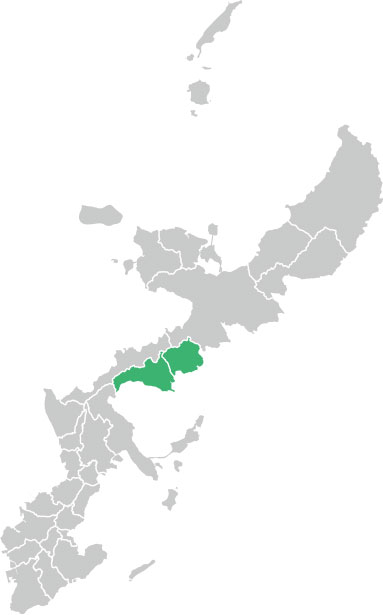 Kin Town and Ginoza Village are located on Okinawa's east coast, bordering Onna Village to the west. The major part of both Kin and Ginoza -- more than 50 percent of which is occupied by the U.S. Marine Corps, including Camp Hansen, the Ginbaru Training Area, the Kin Red Beach Training Area and the Kin Blue Beach Training Area -- is covered with rich greenery and surrounded by rural scenic beauty.
Natural attractions in Kin include the freshwater spring Kin Ukkaga, voted by popular acclaim one of the top 100 sightseeing spots in Okinawa; Cape Kin, characterized by its breathtaking scenic beauty; and the mangrove-lined Okukubi River. Okinawa's east coast is dotted not only with beautiful beaches but also a number of fishing spots and excellent places to go clamming.
Kin's Shinkaichi district, directly in front of the main gate of Camp Hansen, is full of numerous bars, delis and restaurants serving tacos, hamburgers and set meals. Since a majority of the clientele in Shinkaichi are U.S. military personnel, shop and restaurant signs are written in English and prices are shown in U.S. dollars, which gives the area the appearance of a typical American town. Including the graffiti-filled walls, the area retains the appearance of the days under U.S. administration. During the high tourist season in Okinawa, a large number of tourists stop at Kin to explore the unique scenery of the town or to sample taco rice in its birthplace. The Pacific Ocean coast area of Kin and Ginoza is now being developed to be a new resort destination with the opening of the Hilton Okinawa Kin scheduled for 2016. The hotel is sure to become a popular base from which to visit the tourist attractions around northern Okinawa.
The birthplace of taco rice
The first taco rice, taco meat on a bed of rice, was served in a locally owned restaurant in Kin as a meal for the staff. King Tacos is one of the most famous taco rice restaurant chains on the island. Besides taco rice, the area is famous for having a number of restaurants that offer super-size burgers and other dishes that appeal to American taste buds and are also frequented by locals seeking hearty take-away meals.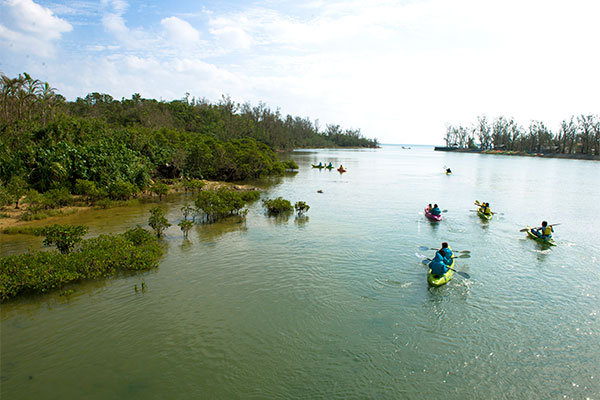 Okukubi River
Mangrove forests thriving along the Okukubi River include four types of trees, more than any other such forest on the main island of Okinawa. A variety of ecotours around the river are on offer from local agencies.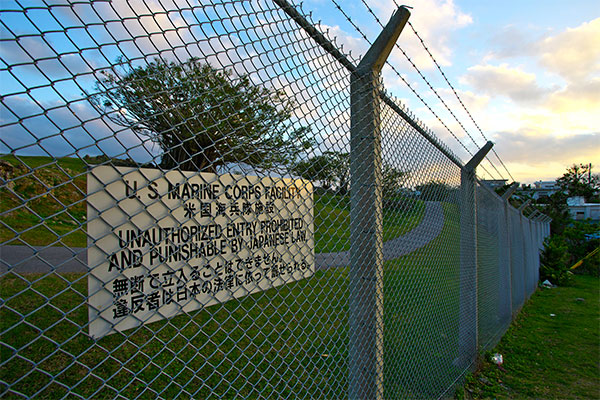 The main gate of Camp Hansen. The camp is a U.S. Marine Corps base located in Kin where some 6,000 U.S. military personnel are stationed.