Where resorts dot the coastal road
The resort coastline of Onna, located between Yomitan Village and Nago City on the East China Sea side of the island, is one of Okinawa's popular resort destinations. The water, with a beautiful gradation of color, and white sand beaches make this area ideal for a drive. A number of prominent resort hotels including the Renaissance Okinawa Resort, the Rizzan Sea-Park Hotel Tancha-Bay, the Sunmarina Hotel and the ANA InterContinental Manza Hotel & Resort are situated in the village as are restaurants featuring aguu pork and Ishigaki beef and specializing in Okinawan cuisine. Spending time at the convenient and safe beach of a resort hotel and enjoying marine sports are recommended for families with children.
If you are looking to soak up the scenic beauty of Onna's coastline, scenic spots such as Cape Manzamo and Cape Maeda are highly recommended. Cape Maeda is one of Okinawa's major diving sites and a mecca that attracts more than 400,000 divers a year. In particular, a spot called Blue Cave has been most popular in recent years. Often compared to the famous sea cave in Italy known as Grotta Azzurra, the Blue Cave offers the extraordinary sight of the entire cave naturally illuminated in blue. The place is crowded with tourists enjoying snorkeling or introductory diving in high season.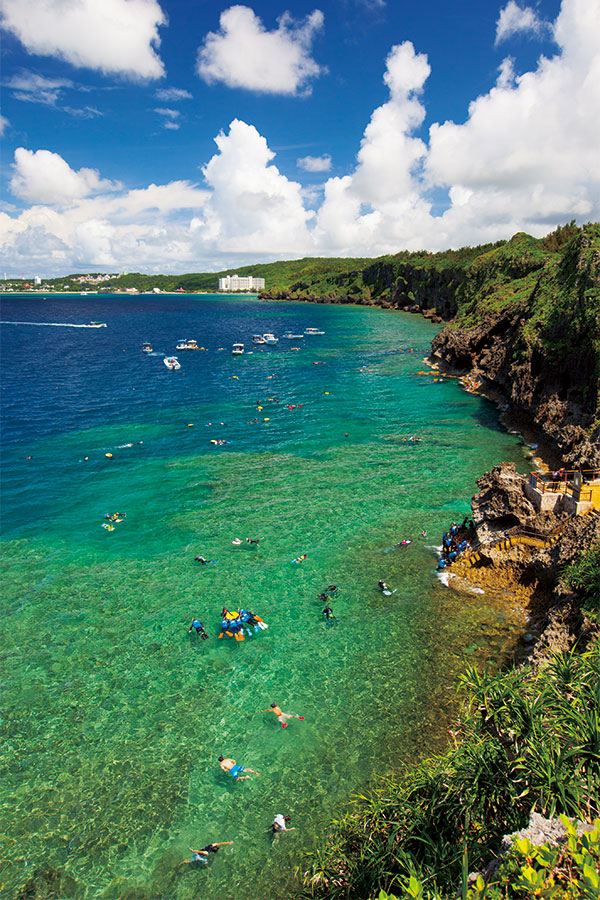 Cape Maeda
In addition to snorkeling and diving fun, visitors can enjoy a panoramic view of the ocean sparkling in many different hues of blue from the observatory. If you're lucky, you might catch sight of dolphins, or humpback whales during the months of February and March.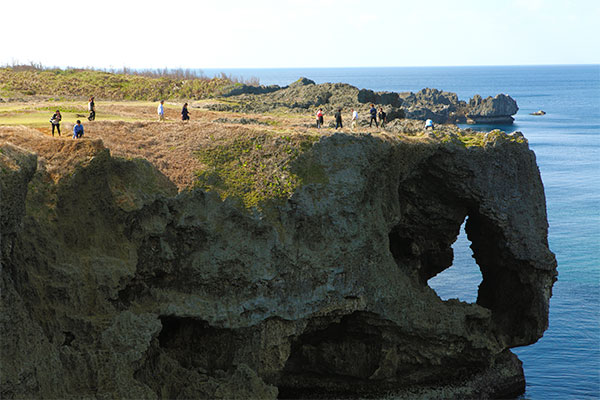 Cape Manzamo
Located in Onna Village, Cape Manzamo is one of the island's most popular scenic sites, famous for its unique elephant-trunk-shaped rock. Almost all tourists passing through the area make a stop at Cape Manzamo and take in the amazing view from the top. The place is popular for photography, and if you want to capture the bluest of the blue ocean, time your visit for the morning hours.
Seaweed (mozuku, umibudo, asa), passion fruits, sugarcane, processed marine products