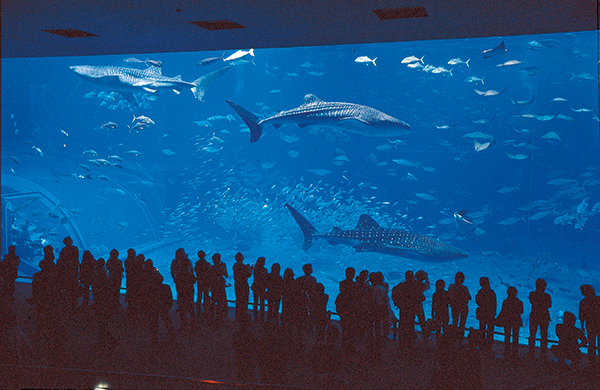 There's always a new experience at Churaumi Aquarium
Internationally renowned for huge whale sharks measuring 8.6 meters in length and various other species of fish that can be observed through a massive acrylic panel, the Okinawa Churaumi Aquarium is a must-see when visiting Okinawa. (Churaumi means "beautiful ocean" in the Okinawan dialect.) Live coral cultivated in an open system is on display, which, along with other projects, attracts both new and repeat visitors. The facility is also known for the unprecedented challenges it faces in breeding whale sharks in captivity. Divided into three distinct sections showcasing a coral reef, the Kuroshio (black current) and the deep sea, the exhibits were painstakingly designed to recreate a natural ocean environment where visitors may take a virtual dive starting from a coral reef lagoon and descending 1,000 meters into the deep sea.
The Annual Passport advantage
No matter how many times you visit the Okinawa Churaumi Aquarium, you will always find something new, whether it's a rare marine animal you've never seen before or one of the many activities and events scheduled throughout the year. If you are planning to visit the aquarium more than once, the Annual Passport may be for you. It will pay for itself in just two visits!
In addition to unlimited visits for a full year, other benefits of the Annual Passport include discounts at shops and restaurants and also free shuttle service. Fill your summer and the months to follow with exciting and educational experiences!
424 Ishikawa, Motobu Town
Tel: 0980-48-3748
Hours: October-February 8:30-18:30 (Last entry 17:30);
March-September 8:30-20:00 (Last entry 19:00)
Admission: 1,850 yen for adults, 1,230 yen for high school students, 610 yen for elementary and junior high school students, free for children under 6./Annual Passport: 3,700 yen for adults, 2,460 yen for high school students, 1,220 yen for elementary and junior high school students.