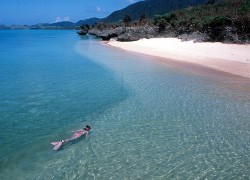 234-323 Hirakubo, Ishigaki City (Ishigaki Island)
Swimming season: April-October
Hours: 9:00-18:00
This beach is located in the northern part of Ishigaki Island. As its name connotes, the beach is a popular location to catch a scenic sunset. Here you can enjoy a variety of marine activities and swimming at all times, even during low tide.