Traditional festival for the entire community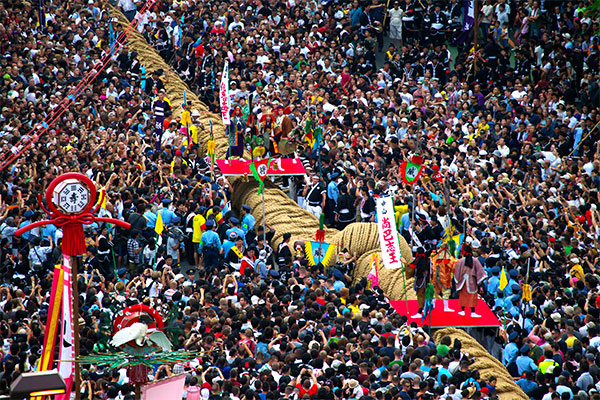 Long ago, tugs-of-war were held throughout the island to give thanks for a bountiful harvest and to pray for rain. The tug-of-war was a community ritual in which people of all ages took part, symbolizing Okinawa's spirit of yuimaaru (cooperation). After World War II, pulling the rope in a cooperative effort among villagers was revived as a local festival. The largest and best known of all these events is the Naha Great Tug-of-War, with a more than 500-year history. This giant rope used for the match measures 200 meters in length, weighs 40 tons and was listed in the Guinness World Records as the world's largest rice straw rope used in a tug-of-war for 10 years, from 1995-2005.
The Naha Great Tug-of-War is the highlight of the Naha Festival, which lasts for three days over a long weekend in mid-October. In Okinawa, the months between July and October are the high season for tugs-of-war when a number of such events of varying size take place across Okinawa.
---
Naha Great Tug-of-War Festival
All of Naha is in a festive mood for the event, with a parade and traditional folk performances taking place on Kokusai Street on the first day, and live stage performances at Onoyama Park and fireworks throughout the weekend. The Naha Great Tug-Of-War, the main event of the festival, is held on Sunday, the second day of the three-day festival.
Date: Second Monday and the weekend preceding the second Monday in October
Place: Onoyama General Athletic Park and Kokusai Street
Admission: Free
---
Itoman Great Tug-of-War
Itoman City, as known as the city of uminchu (fishermen), hosts a tug-of-war to pray for a good harvest and a bountiful catch. It is held on Route 331, where the East and West teams pull a 180-meter (590 feet) rope. A michi junee (costume) parade takes place before the tug-of-war starts.
Date: August 15 of the lunar year (September)
Place: Itoman Rotary, Itoman City
Admission: Free
---