甲子園スタジアムOKINAWA
Koshien Stadium OKINAWA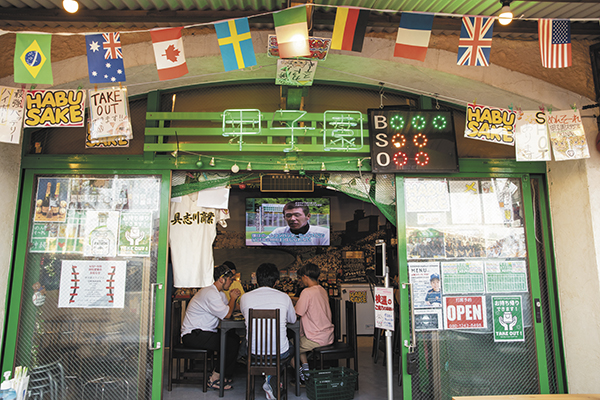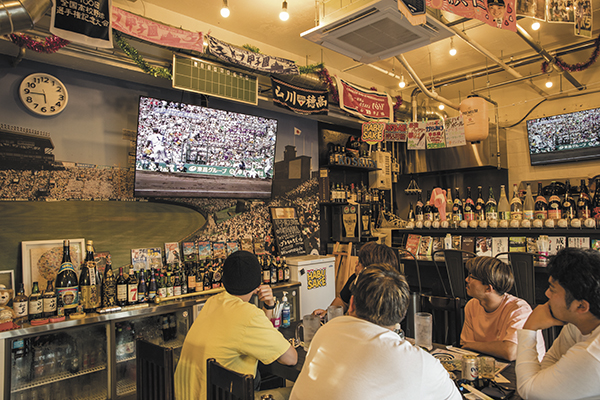 "Stadium Manager" and "Mariko-mama" welcome customers to "Koshien Stadium OKINAWA"
Pub "Koshien Stadium OKINAWA" opened in October 2020, in the middle of the Corona pandemic, in the Depot Island complex in Mihama, Chatan.
The interior of the baseball-themed store is decorated with wallpaper depicting the "Alps stands," the outfield benches along the lines, and a trademark image of the Koshien stadium. Autographed balls and colored paper signing boards by professional baseball players and uniforms from former baseball players from Okinawa Prefecture high schools complete the interior decor.
"Koshien Stadium OKINAWA" embodies the passion of the owners. During his high school years, "Stadium Manager" played in the Koshien stadium with the Chubu Commercial High School baseball team, and "Mariko-mama" was the team's manager.
They fell in love while on the team and married after finishing high school despite school officials' frowning on dating among team members. Today they invite everyone to celebrate their love story by toasting their original drink "Bunai Renai" (Club Romance)!
Hearing that last year's Koshien tournament was canceled, they thought about what they could do. "We wanted to inspire and delight high school baseball fans and players. So, we decided to open a baseball-themed shop."
The couple wanted to create a cozy "home base" for baseball lovers of all ages. They especially welcome families with children who currently play high school baseball.
Among the special drinks, three original house drinks stand out! The above-mentioned "Bunai Renai" refers to the couple's personal story. Kachiwari is a drink served with crushed ice in a plastic bag and drunk with a straw. "Shikyu" is "Dead Ball" in English.
Meals on the menu range from steaks to snacks, and customers can also bring in chicken kebabs from the "YAKITORIYA" sister store "Right Here KEBAB," which just opened in April 2021.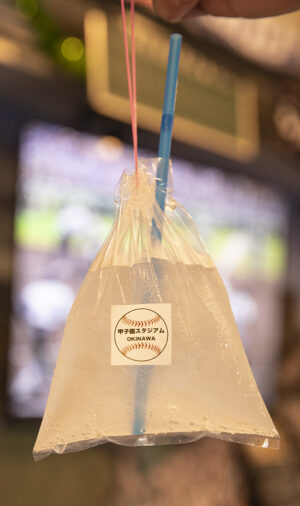 Original drink "Kachiwari" is served in a bag with straw.
Distortion Seaside 1F, Mihama, Chatan
Tel: 098-989-0589
Hours: 18:00-23:00
Closed on Wednesdays
Instagram: @koshienstadiumokinawa