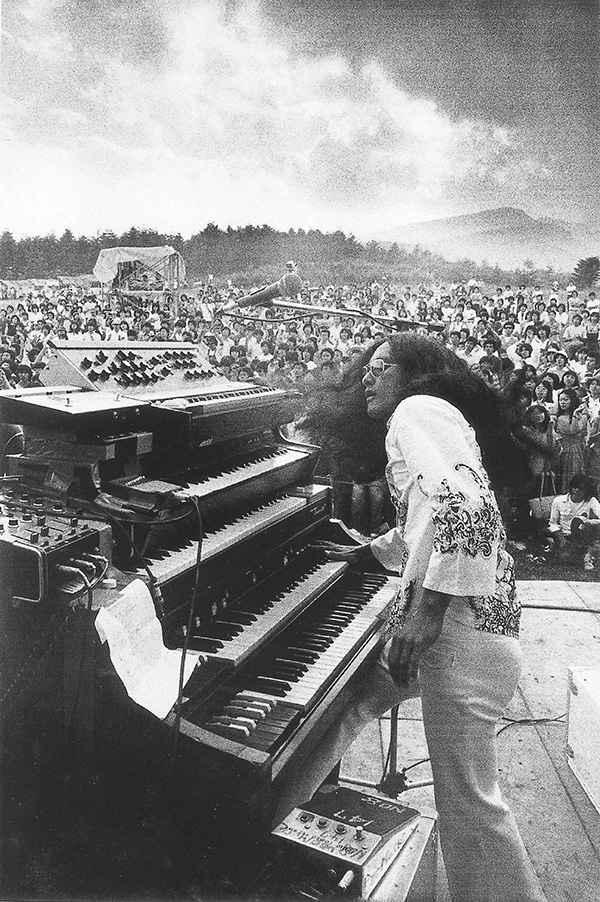 This shot of Murasaki from the 1977 Rock Festival at Mother Farm in Chiba is reminiscent of Woodstock. When Murasaki debuted in mainland Japan as guest band at Osaka's 8.8 Rock Day in 1975, their performance elicited a standing ovation from the 6,000-strong audience.
When the Vietnam War broke out in the 1960s, American B52s regularly took off from Kadena Air Base in Okinawa on bombing raids to Vietnam. Okinawa, having become the primary route for the U.S. into the warzone, quickly filled with American servicemen. Many flew missions into Vietnam; some did not return.
everal Okinawan communities, such as Okinawa City (then known as Koza), located near U.S. military bases, experienced an economic boom during this time. Many U.S. servicemen sought fleeting solace from the war through pounding hard rock music. The Okinawan youth – up until that point mainly performing The Beatles and The Ventures – began to play hard rock and R&B for the soldiers in these base towns. Performing for American audiences helped Okinawan bands develop a unique style different from contemporary bands in mainland Japan. It was not long before the music they played came to be categorized as "Okinawan rock."
n the 1970s two bands were formed that came to symbolize Okinawan rock. One was Murasaki, founded by keyboardist/composer George Murasaki when he teamed up with the three Shiroma brothers in 1970. Yukio Shimoji was soon added, and after the incorporation of Eiichi Miyanaga and Kiyomasa Higa they were signed to a record label. In August of 1975  Murasaki was invited to perform at a Yamaha-sponsored event in Osaka called 8.8 Rock Day. Their gripping performance won the hearts of astounded rock fans, and this concert subsequently took on legendary status in the history of Okinawan rock music. The following year they they released their first album, "Murasaki," in April 1976.  Combining baroque flavors of the Hammond organ with two guitars, they pursued the spirit of hard rock music. Dubbed the "Deep Purple of Japan," Murasaki took the scene by storm. They also released their second album "Impact" in December of the same year and went on to be voted the most popular Japanese rock band in a popularity poll in "Music Life" (the most widely read music magazine in Japan at the time) in 1977. Band members were also voted in the top 10 in individual categories, with George Murasaki named the most popular keyboardist in 1978 in the same magazine.
he other band that was central at this time was Condition Green. The four band members were singer Katsuhiro Kawamitsu (Katchan), bassist Eddie, guitarist Shinki and drummer Etsu. Giving repeat explosive performances for the fearsome U.S. Marines, they gained popularity with the same.
ther bands followed suit, namely Cannabis, Kotobuki and Medusa. Their hard, raw sound reverberated throughout Japan in the '70s, stunning the mainland rock scene. In 1988 the band called Island, formed by twin brothers Toshio and Masao Shiroma (both former members of Murasaki), released the song "Stay With Me," which went on to become a nationwide hit.
nd so it was against this historical backdrop of the Vietnam War, and the corresponding base towns, that Okinawan rock was gloriously birthed. In 2008 Murasaki regrouped under the leadership of George Murasaki and released their new album, "Purplessence," on June 9, 2010 – on Rock Day, no less! – signaling the resurrection of an Okinawan rock legend. The symbol of Okinawa's music scene, Okinawan rock, continues to thrive and evolve, and even now you can hear live performances by legendary artists in and around Gate 2 Street.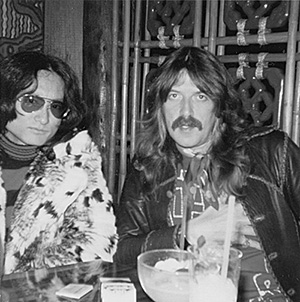 George Murasaki with Deep Purple keyboardist Jon Lord (Tokyo, December 1975).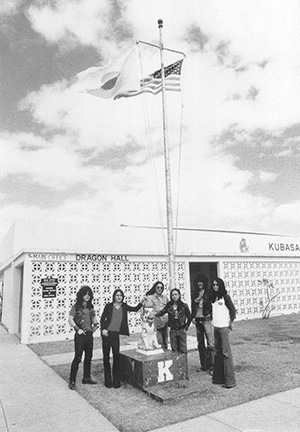 Murasaki in front of Kubasaki High School (around 1976).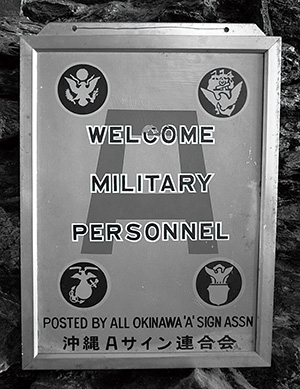 An "A" sign permit issued to U.S. military-authorized stores in Okinawa before reversion to Japan. Red for restaurants, blue for cabarets and other color coding was used.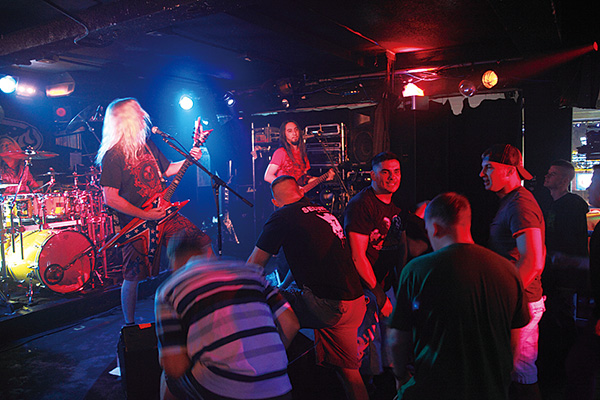 7th Heaven Koza
Live shows every weekend with 8-Ball, Murasaki, American bands and young metal bands.
1-2-10-3F Chuo, Okinawa City
Tel: 098-982-1987