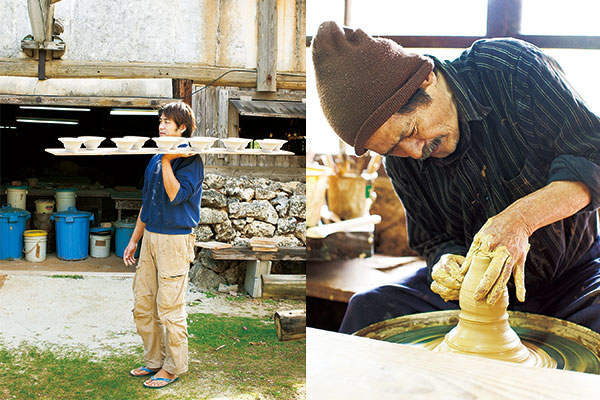 Yomitan Village, abundant in natural beauty and known for its rich cultural backdrop, is where many craftsmen and artists reside, including Ryukyu glassmakers and potters. Yomitan's Yachimun no Sato (Pottery Village) is a pottery mecca with numerous workshops and galleries. Among artists working there are Living National Treasure Jiro Kinjo and his group of artisans. Yachimun no Sato is the only remaining place on the island with multiple step kilns. Workshops in the village are often complemented by cafés and/or shops displaying and selling works by the resident artist. Among these are the atelier of Sumiko Miyagi, the first daughter of Jiro Kinjo, which has a retail space adjoining that carries a sampling of her works, and Gallery Mori no Chaya, a ceramics gallery combined with a café, featuring pieces by Meiko Kinjo and located behind his workshop. You can enjoy workshop hopping while taking a leisurely stroll through the verdant valley. Yachimun no Sato holds its pre-Christmas pottery market every December.
---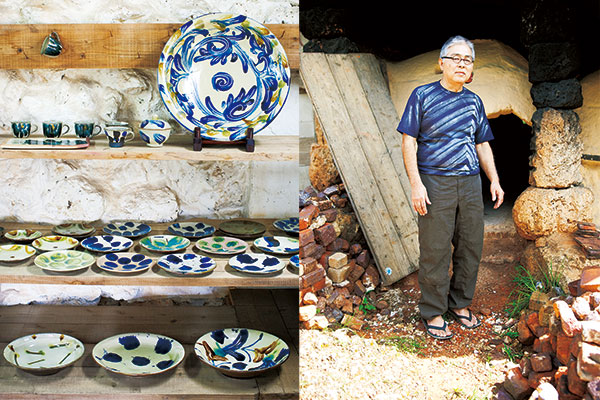 Shinman Yamada Gallery
As the city of Naha increased in population and became unable to support an active pottery district due to the constant smoke generated by kilns, the island's ceramic production base was moved from Tsuboya in Naha to Yomitan Village in the late 1970s, when the Yuntanza gama (a kiln in Yomitan) was first built. Shinman Yamada, one of a group of ceramic artists who established the kiln, has since produced a number of exceptional works there. Characterized by strong expressions embodied in color and brush strokes, his signature style is described as "a dynamic world of imagination," and many of his pieces have been featured at workshops and exhibitions at a variety of overseas locations including San Antonio, Texas, (2001), New York City (2002 and 2003), Stockholm (2003) and Washington state (2008). Visit Yamada's gallery at his home in Yomitan to enjoy a collection of his work in a relaxed atmosphere.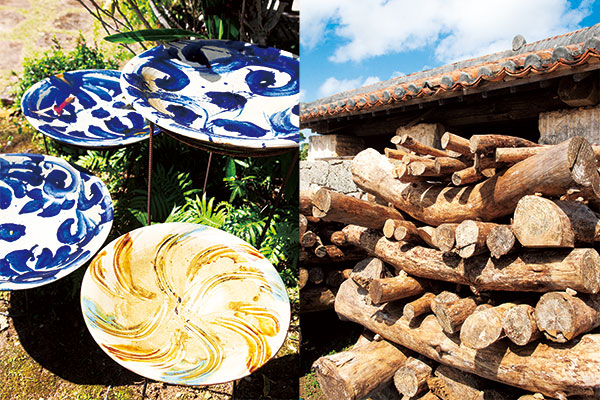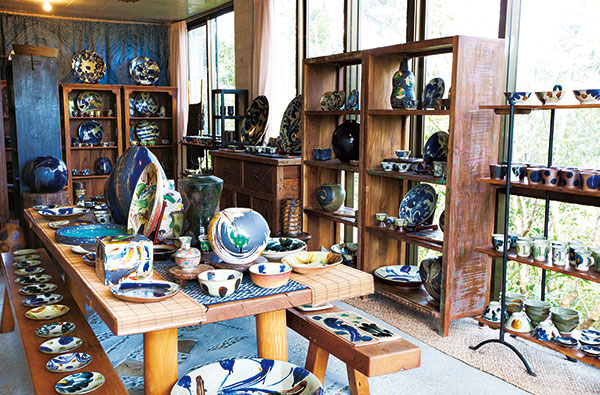 Shinman Yamada Gallery at Yuntanza Gama
2653-1 Zakimi, Yomitan Village
098-958-3910
11:00-17:00
Closed irregularly
---
Gallery Mori no Chaya
The gallery at the café showcases works by Meiko Kinjo, one of the artisans affiliated with the Kinjo Kiln, and his wife, Hisae. Beverages and snacks incorporating ingredients produced in the village are available, served on unique pottery crafted by the artist.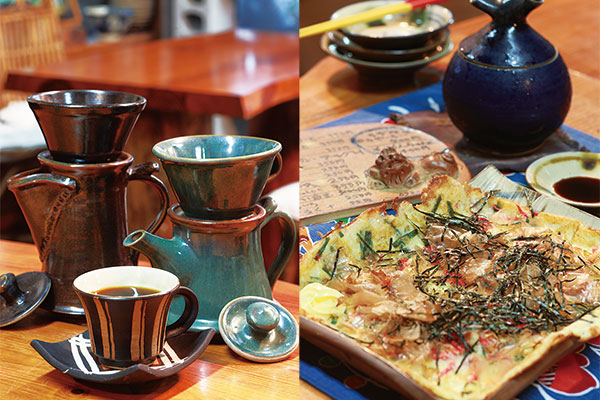 This drip coffee pot is a popular item. Yachimun no Sato is frequented by many locals since its merchandise includes a variety of household goods.
Hirayaachi, a simple pancake-like dish, is a favorite snack food among locals and is often found on the menus of Okinawan-style cafés like this one (400 yen).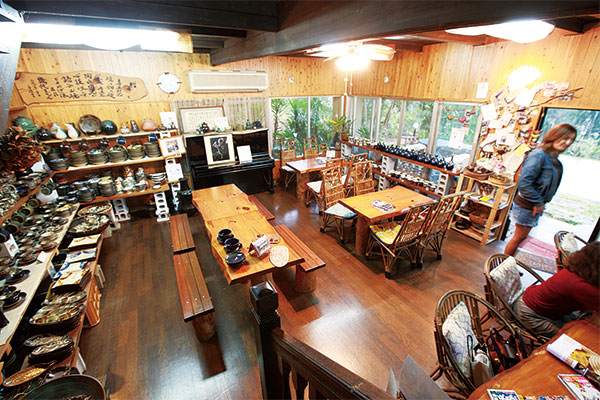 Gallery Mori no Chaya
2653-1 Zakimi, Yomitan Village
Tel: 098-958-0800
Hours: 11:00-19:00
Open daily
>>> A pottery mecca: Yomitan Village Yachimun no Sato