A pottery mecca: Yomitan Village Yachimun no Sato

The blue sky contrasts dramatically
with Yuntanza Gama's red tile roof.
As the city of Naha increased in population and became unable to support an active pottery district due to the constant smoke generated by kilns, the island's ceramic production base was moved from Tsuboya in Naha to Yomitan Village in the late 1970s, when the Yuntanza Gama (a kiln in Yomitan) was first built. Shinman Yamada is one of a group of ceramic artists who established the kiln, emphasizing the necessity of a large step kiln to create quality pottery pieces.
There are three step kilns in Yachimun no Sato, where many craftsmen have workshops. The red-roofed nine-step kiln known as Yuntanza Gama is the symbol of the village and is shared by a number of potters. Further up the hill is the Kita kiln, used by young craftsmen, as well as well as the Kinjo kiln, used for firing by the late Living National Treasure Jiro Kinjo's group. The works of these artisans can be purchased at the craft shop. Observers are allowed at some workshops, but try not to disturb the artists at work.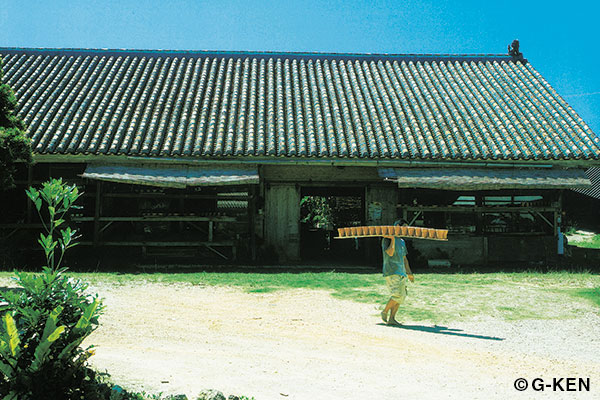 Kitagama
Yuntanzayaki Kitagama was established by four artists, including Masataka Miyagi, Yoneshi Matsuda, Kyoshi Matsuda and Masamori Yonahara, who ventured out on their own after training at workshops specializing in Yomitan-style pottery. Each atelier produces pots, large plates, sake bottles, jars, incense burners, vases, lamps and coffee cups.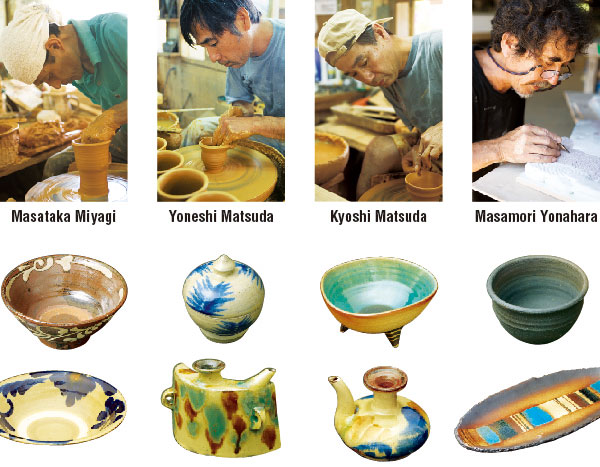 ---
From flower vases to household goods produced by various artists, the Yuntanzayaki cooperative store offers all sorts of pottery pieces.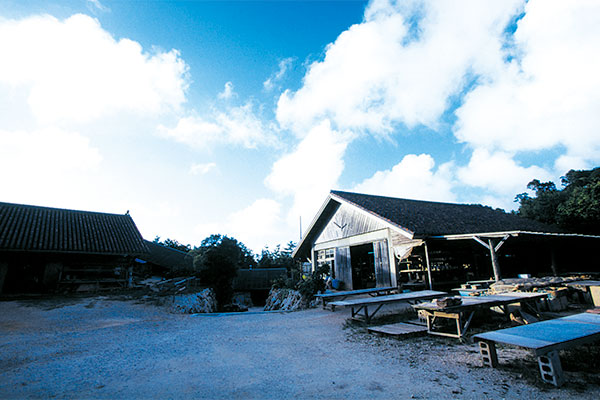 Yuntanzayaki Kitagama store
2653-1 Zakimi, Yomitan Village
Tel: 098-958-6488
Hours: 9:30-17:30
Closed: Irregularly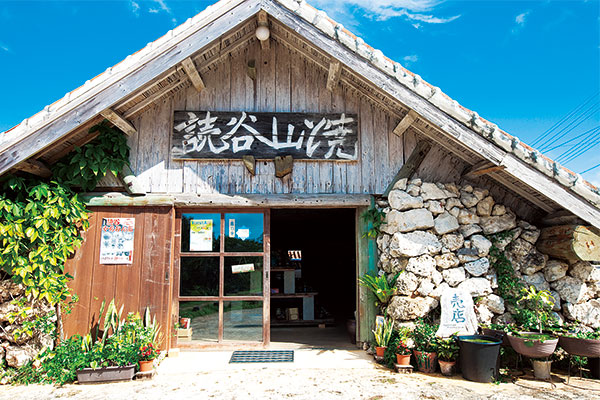 Yuntanzayaki cooperative store
2723-1 Zakimi, Yomitan Village
Tel: 098-958-4468
Hours: May-October 9:30-18:00; November-April 9:30-17:30
Closed: Tue