Breakfast croffle kickstarts your weekend day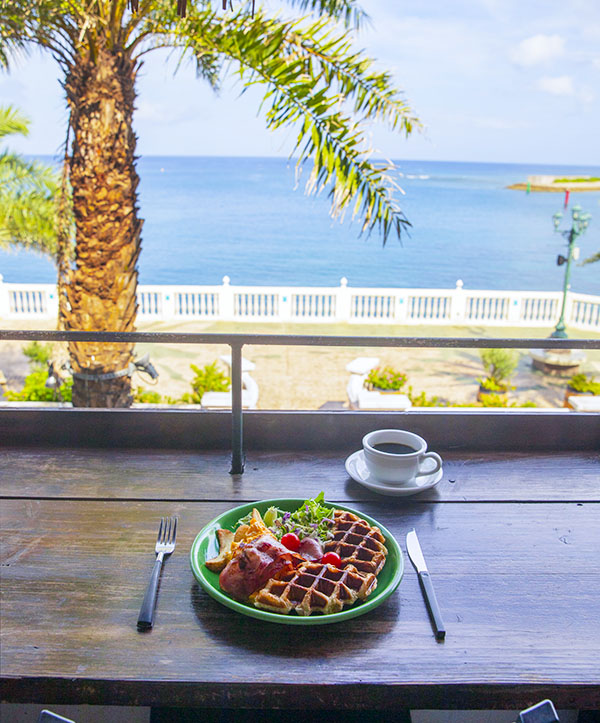 The croffle is the newest croissant hybrid that reportedly was first created by Irish pastry chef Louise Lennox. Simply, her creation is a waffle made of fluffy croissant dough. It was soon adopted by Korean street food vendors in Seoul, from where the sweet treat spread to restaurants and cafés in Tokyo and other major Asian cities.
Horizon Curry Works in Mihama's Depot Island has now brought the sweet creation to Okinawa and added it as a part of their new weekend breakfast menu.
Horizon's menu has croffles with five different toppings, from the traditional bacon and eggs to a mix of berries and honey. The prices range from ¥780 for a croffle with Canadian maple syrup to ¥1,080 for one with a roasted jerk chicken topping.
And what would breakfast be without coffee? Horizon has four different hand-pressed espressos to choose from, both hot and iced. A selection of craft sodas made on the premises using Okinawan brown sugar and spices and fresh fruit juices are also available.
Horizon serves its breakfast from 8 to 11 a.m. on Fridays, Saturdays, and Sundays.
Horizon Curry Works
Distortion Seaside Bldg. 2F, Mihama
Tel: 098-989-8012
Open: Weekend Breakfast 8:00 – 11:00 (Fri – Sun)
Weekdays 11:00 – 22:00 (until 20:00 during COVID emergency)