Tourism EXPO Japan open this weekend
A comprehensive travel event, "Tourism EXPO Japan Travel Festival Okinawa," opened its doors at Okinawa Convention Center in Ginowan City on Thursday, Oct. 29th. The event will continue through Sunday, with the last two days open for the general public.
Admission to the exhibition is free but requires advance registration online and a pass printed out once the registration is complete — the registration website s multi-lingual, including English.
Because of the on-going coronavirus pandemic, organizers reduced the event's scale, and overseas participation has been limited. Measures against the spread of the virus are also in effect. All visitors are required to wear facemasks at all times and keep a social distance.
Organizers reduced the number of exhibition booths by more than half from the planned 800 to 390. Still, organizers expect about 22,000 visitors to attend the event over the four days.
The theme of the Tourism EXPO 2020 is "Energize Japan and the world with the power of travel!" At the opening ceremony, Kenichiro Yamanishi, Chairman of the Japan Tourism Promotion Association, said, "I want to overcome the global Covid-19 crisis as soon as possible and send a message from Okinawa to the world for the global revival of international travel."
Almost all local municipalities had booths at the exhibition where they promote their local specialty products and attractions. Because of the pandemic, organizers had asked participants to use shields to separate visitors from the staff and refrain from handing out flyers and promotional materials and concentrate on promoting their offerings through videos and other safe means as much as possible.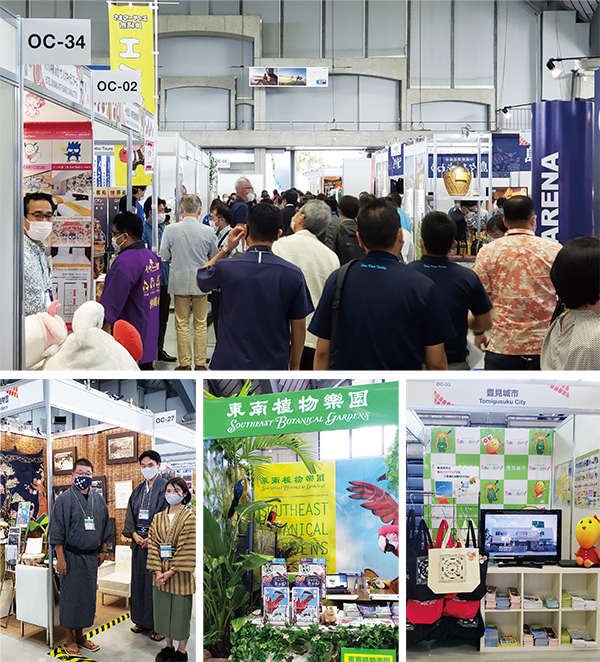 Chatan Tourism Association has one of the largest booths in the event, where they ran videos of their showcase destination American Village area and its new attractions. They also promoted their new "The Chatan Brand" label, which the town plans to apply to products like the "Chatan Choro" line of awamori and services within the area.
Individual businesses and organizations, such as Southeast Botanical Gardens, Okinawa Karate Association, Okinawa Awamori Brewers Association, and large resorts and hotels, had their booths. Local tour agencies did their best to promote inbound travel, although the prefecture is still closed for visitors overseas.

Japan Tourism Promotion Association, Japan Association of Travel Agents, Japan Tourism Bureau are the annual event's main sponsors.
Parking at the Convention Center and the nearby Ginowan Port Marina is limited. More parking is at Ginowan Fishing Port. A free shuttle bus runs between the venue, Omoromachi Station and Ginowan Fishing Port. A reservation on the shuttle bus can be made online (Japanese only). A map of the EXPO venue is at https://www.t-expo.jp/en/okinawa/guide/floormap
Date: Oct. 29 – Nov. 1
Place: Okinawa Convention Center
Open: Thu 13:15 – 18:00,
Fri 10:00 – 18:00
Sat 10:00 – 18:00
Sun 10:00 – 17:00