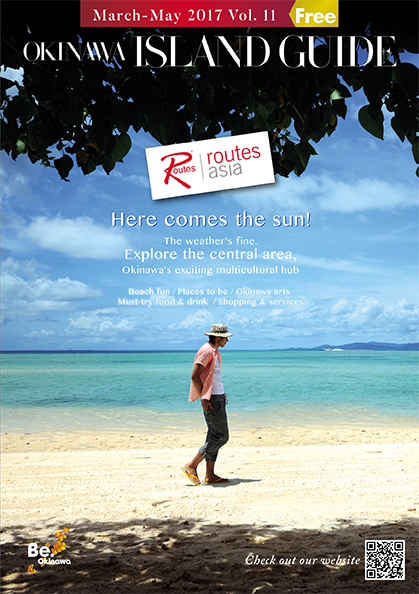 Here comes the sun! Okinawa's early cherry blossoms have come and gone, and you can feel what once passed for a chill here in the subtropics melting away as the days grow longer. With beautiful beaches waiting and some terrific places to go for anything from sightseeing and active fun to dining out, Okinawa is sure not to disappoint. In this edition of Island Guide Free, you will be able to peruse a number of special places – particularly in the island's exciting central area. Visit some of the best places to experience Okinawa's natural beauty, mouth watering culinary options, art scene, nightlife and shopping offerings alone or with family and friends.
Moon Ocean Hotel & Residence and Hotel Moon Beach
Two great hotels that you don't have to be a guest to enjoy
Mega Zip & Go Fall
Two thrilling attractions in Onna Village
Horizon Curry Works
is a terrific place to enjoy mild Japanese curry and a beautiful view
Need a barber?
Frank's Chop Shop has come to Okinawa, offering first class service that goes beyond a haircut
Okinawa Kami Sushi's
two locations in beautiful Chatan offer wonderful sushi and much more
BIOS no OKA
is a natural wonderland located in Uruma City with boat tours, Japan's largest collection of orchids, butterflies and even water buffalo cart tours!
Bones BBQ & Steak in Uruma City has a smoker going all day to
bring you award-winning burgers and ribs

You can't miss Seafood & Bar Crocodile.
Grilled crocodile is on the menu, along with delicious steaks, seafood, fully stocked bar and festive atmosphere
Peacock Chinese Restaurant
A Ginowan City landmark with the best Chinese food in Okinawa
Joia de Lequios
combines Ryukyu glass with modern jewelry design
At Kangen Restaurant Ocean Eight,
enjoy healthy local ingredients and a natural hot spring
Sanchikuju Ramen Shop
Ginowan's gateway to real ramen flavor
Harley Davidson Okinawa
Ginowan City's source for unique souvenirs for Harley fans everywhere
Amerotica Japan
has a great selection of gowns, dresses and more for life's formal occasions
Jai Thai serves award-winning cuisine with warmth and style
X Factory Outlet offers designer clothing and accessories at factory prices
Restaurant Janosz serves steaks and other delectable dishes infused with 
artistry and great flavor
The name, Cafe & Pizza Bar Oh Yeah! speaks for itself. 
Come and enjoy great food, a spectacular view and good company
Pink Elephant has a full bar and competition-level electronic dart boards for 
a terrific evening out with friends
Muta Marine Okinawa offers some thoroughly unique items for the ocean-lover in all of us
Shabu-Shabu Onyasai offers unique and healthy Japanese-style hotpot meals
Capricciosa Chatan Mihama serves original Italian dishes for all occasions for lunch and dinner
In the heart of Mihama American Village, visit Tony Roma's. The iconic American "place for ribs" is open daily for lunch or dinner.
La Cucina Soap Workshop in Ginowan City has an aromatic selection of 
fine cold-pressed soaps, oils and other health and beauty products
Visit Southeast Botanical Gardens for a day of nature watching. Stop for lunch with a view of Okinawa's beautiful plant life
Learn traditional Okinawan crafts and even karate at Murasaki Mura, Yomitan Village's historical theme park
At Yomitan Village's Tatsu-bo, you can learn to make and paint shisa, Okinawa's traditional guardian spirits